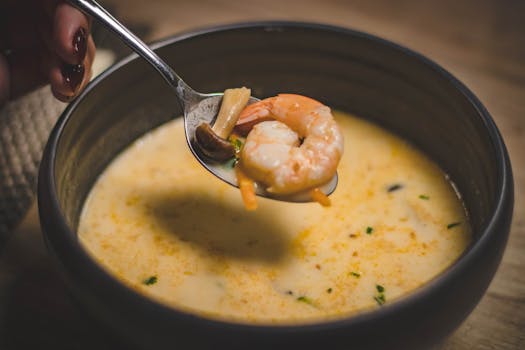 Regular use of soup benefits over the taste buds. Due to its high fiber and water content, it helps flush out harmful toxins in the body without being hard on the stomach. This is also the reason why it is an effective dish to help one lose weight – the water it contains helps one fill up quickly compared to other food.
So whether you are aiming to shed a few pounds or simply love soup, here are 3 creamy soups you'll surely fall in love with:
3 1/2 cups chicken broth
3 cups peeled and cubed potatoes
2 cups milk
1 3/4 cups whole kernel corn
1 cup Mexican-style processed cheese food
1 cup sliced celery
1 cup sliced onion
1/2 cup diced green chiles
1/4 cup country-style gravy mix
2 tbsp margarine
Melt margarine in a large pan over medium-high heat cook onion and celery for 3 to 5 minutes or till tender. Stir in potatoes, lower heat and cook, stirring occasionally, until potatoes are tender, about 20 to 25 minutes. Add corn and chiles and bring to a boil. Dissolve gravy mix in milk then stir in the pan. Lastly, add cheese then cook and stir over low heat until cheese is melted and mixture is creamy and thick.
Milky Mushroom Soup
What you need:
2 shallots, chopped
1 3/4 cups chicken broth
1 cup Portobello mushrooms
1 cup shiitake mushrooms
1 cup half-and-half
1/4 cup butter
2 tbsp all-purpose flour
1 pinch ground cinnamon
Malabar Wildlife Removal
Salt and black pepper to taste
In a large saucepan, melt butter over medium-high heat then cook shallots, Portobello mushrooms and shiitake mushrooms until tender, about 5 minutes. Add flour and stir until smooth. Gradually add chicken broth and cook, stirring, until mixture is thick. Insert half-and-half, season with salt and pepper and sprinkle with cinnamon. Stir and heat through (don't boil).
Carrot-Curry Cream Soup
What you need:
1/2 kilogram carrots, peeled and cut into 1-inch chunks
1 large onion, diced largely
3 large garlic cloves, thickly sliced
3 cups chicken broth
1 1/2 cups whole milk
2 tablespoons curry powder
2 tablespoons olive oil
1 tablespoon butter
1 pinch sugar
Salt and ground pepper to taste
Chopped roasted pistachios for garnish
In a large pan, heat oil then saute onion and carrots for 2 minutes or until slightly golden brown. Lower heat then stir in garlic, butter and sugar. Cook for 10 minutes then add curry powder. Pour in broth, allow to simmer, partly covered, until carrots are tender, about 15 to 20 minutes. Remove from heat and puree in a blender until mixture is smooth. Return to pan, add half-and-half then heat through. Add salt and pepper if needed. Transfer to serving bowl and garnish with pistachios.
Stay warm and full on a chilly night with these delicious creamy and hot soup recipes!